Australians not in favour of Coalition sending more troops to fight Isis – poll
Iraqi forces fighting
Islamic State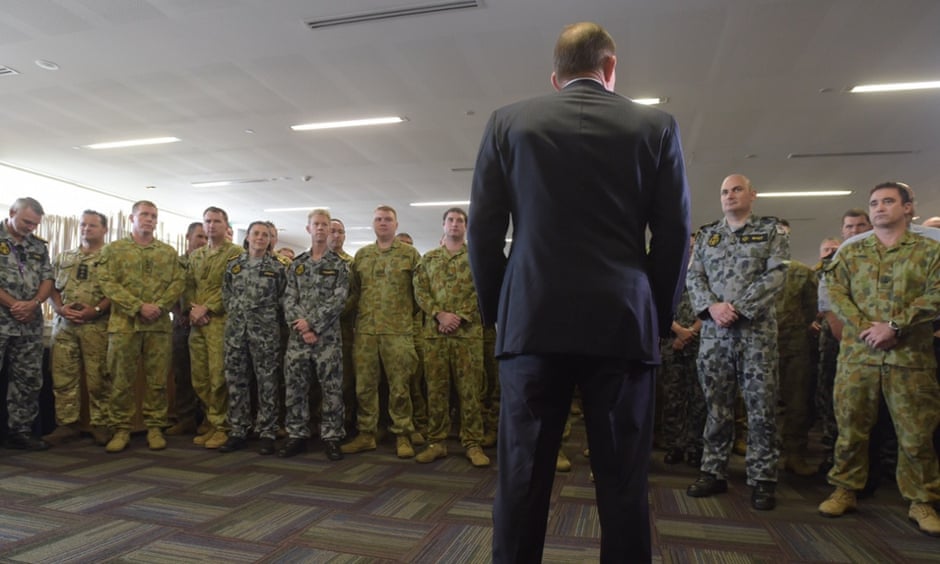 The Abbott government's recent decision to deploy more Australian
troops to train Iraqi forces is not popular with the Australian public,
according to the latest Essential poll.
Fifty per cent of respondents in the new poll published Tuesday
disapproved of sending more Australian soldiers to help train the Iraqi
forces currently fighting Islamic State militants.
Only 36% approved of the decision – and only 12% of the Essential sample think an increased Australian military presence in Iraq will make Australia safer from terrorism.
The prime minister confirmed a week ago
that Australia will send another 300 troops to Iraq alongside forces
from New Zealand on a joint training mission to train the Iraqi
military. The fresh deployment is expected to begin in May, and will
involve regular Australian forces based in Taji, north-west of Baghdad.
The deployment is supported by the Labor opposition.
The Essential poll indicates a majority of Coalition voters approve of the deployment, but 60% of Labor voters disapprove.
The latest poll also charts a high degree of scepticism about whether engagement with the conflict in Iraq is beneficial for Australia's national security.
Tony Abbott says regularly that he understands Australians are
reluctant to reach out to far away conflicts, but this particular
conflagration is reaching out to us – citing domestic counter-terrorism
risks posed by radicalisation.
But
30% of the Essential sample think sending more troops to Iraq will make
Australia less safe from terrorism. Only 12% believe engagement will
make Australia safer.
Nearly half of the sample think the current deployment will make no difference to the domestic security outlook.
Evidence given by MI5 to the Chilcot inquiry into the war in Iraq in
2003 confirmed the US-led invasion substantially increased the threat of
terrorist attacks, and was a significant factor causing radicalisation
of young Muslims.
This testimony backed the observation of the then Australian police
chief, Mick Keelty, that the Iraq invasion was likely linked to
terrorist acts, such as the Madrid bombings in 2004. Keelty was
lambasted by the Howard government for departing from the official
government line on the war.
On broader political indicators, a separate poll, the Newspoll, published by the Australian newspaper on Tuesday, recorded Labor
restoring a commanding lead over the Coalition. The two-party preferred
result had Labor federally on 55% and the Coalition on 45%.
The prime minister's satisfaction rating increased by three points in
Tuesday's survey, which is within the poll's margin of error.
Essential also recorded a favourable movement for the prime minister.
Abbott's disapproval rating dropped six points since February – and
there was a 2% increase in his approval rating.
The government has been in the process of dumping unpopular policies
in the wake of efforts by backbenchers to spill the Liberal party
leadership.